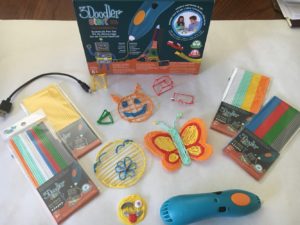 I was thrilled beyond belief to receive this free 3Doodler starter set to review.  The company also provided me with another free kit to share with a friend.  I held a party with 13 adults and 7 kids.
How to use the 3Doodler pen:
The pen charges by using the supplied USB-to-Mini USB connector.  The lights on the pen show when the pen needs to be charged and when it is ready to use.  You slide the color plastic sticks in one end. The pen pulls the plastic through and heats it.  When you use the pen to write or draw, if you go slow the line is thick and if you go fast the line is very thin.  You can also hold still and make dots/circles for things like eyes.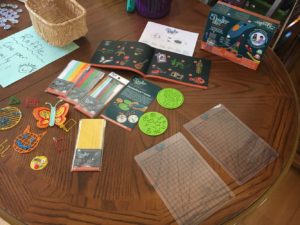 I set up a testing station where everyone could try the pen and make their own creations.  The kids loved the pen and had a great time creating stuff. Writing their names was the most popular.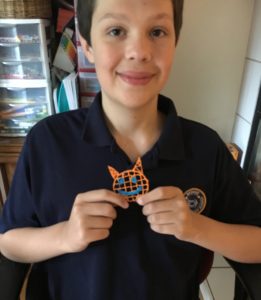 Everyone agreed that Kennan had the best creation – a cat!
My Review of the 3Doodler pen: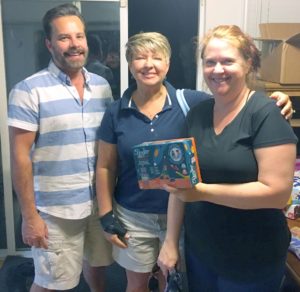 I LOVE the 3Doodler pen.  I am so excited to use it.  I have different projects, including ones for work that I will do.  My kids like the pen, too, but not as much as me. The colors are great, but they are missing black.  I do not think it's too big to hold.  It is meant for kids.  There are thinner, "adult" pens that are more expensive, but I think this one is great.
Nikki won the extra 3Doodler starter set, which is perfect, because she runs a daycare and loves arts & crafts.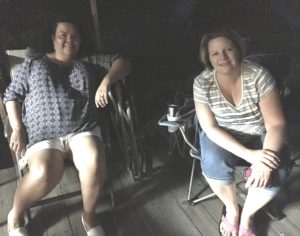 After playing with the 3Doodler and having some snacks, the adults hung out on the back deck and the kids continue to play.
Click here to purchase 3Doodler on Amazon.com.
Thanks to:  3Doodler and Tryazon
#3doodler #tryazon
@3doodler @tryazon