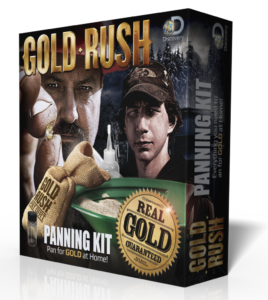 My family and I have been big fans for the TV show Gold Rush on Discovery Channel since it first began in Alaska in 2010.  We watched for seasons hoping they would hit pay dirt and the mother lode!  Yes, we actually talk like that, using all the mining jargon the Hoffman crew does.  Once Parker Schnabel joined the show, he became our favorite. Such a young man, so smart, such a hard worker, and loved his grandpa – how could anyone not love Parker?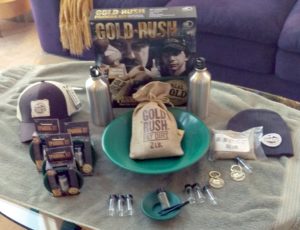 When the Gold Rush Panning Kit came out last year, I immediately bought it for my boys for Christmas.  Then when Tryazon asked for people to hold a party and supplied kits for all our friends, I was all on board!
The kits are sold by Pay Dirt Gold Company and we were given 2 large kits – one to keep and one to give away as a door prize.  We were also given lots of swag to hand out, including two different kinds of hats, key chains, t-shirts, vials, water bottles, and a ton of pay dirt!  We also received a bunch of mini-kits for people to try and take home.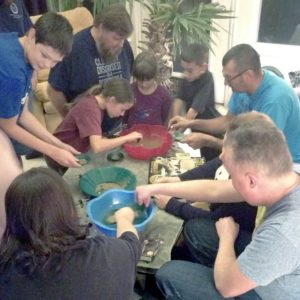 This was a big hit for everyone.  Jeff also had gotten a kit for Christmas last year and Mike had been actually panned for gold in Alaska.  Arlo was quite excited when he and his family won the big Gold Rush Panning Kit. Since there were so many goodies, every single person got to take something home!
We set up a panning station where everyone grabbed a pan, pay dirt and some water.  We played the Pan Like a Pro video so everyone had a good idea how to proceed.  And then we were off!
Everyone had different panning techniques, but we found that those that followed the video had the best luck.  Kennan found the most gold, but everyone had fun!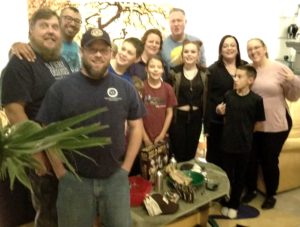 Thanks to:
Pay Dirt Gold Company, the makers of Gold Rush Panning and Tryazon 
#tryazon #GoldRush #GoldRushPayDirt
@Tryazon @GoldRush @GoldRushPayDirt