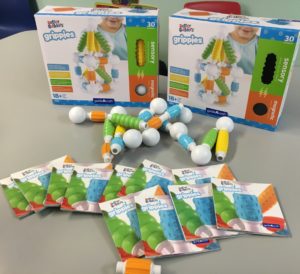 I was awarded a Tryazon party for these great Guidecraft Grippies.  This is considered a STEM (Science Technology Engineering Math) toy and designed for ages 18 months and up.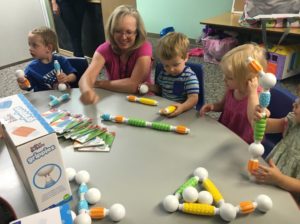 I took these to Little Lambs Play and Learn Daycare & Preschool and let the 2 year old class have at it.  Just look at their faces!  They loved the magnets.  These kids are pretty little, but once we showed them how the magnets work, how to make shapes and how to reverse the polarity and feel the magnets push apart, they were mesmerized.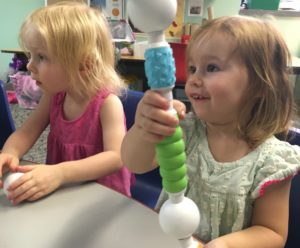 They were so cute playing with the different rods and balls. They did a great job sharing, however, Guidecraft gave me two 30-piece sets. I donated both the the Daycare/Preschool so the kids should have plenty!
Here's a description of the toy from their website.
Open-ended magnetic STEM building toy for toddlers, ages 18 mos. +
Combines tactile exploration with magnetic play.
Provides introduction to engineering
30 piece set in exciting bright colors
Over-sized ABS Plastic rod encapsulates magnets.
Accompanying metal balls are over-molded with soft plastic. Seamless texture for secure construction.
Exterior features 4 soft matte textures
Yes, the texture, colors and magnets were great.  But my favorite part is that is is open-ended, no rules, make whatever you want kind of play.  The kids were proud of themselves for making different creations.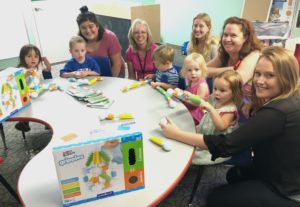 Each of the parents got a booklet about Guidecraft Grippies and we gave some to the 3 year old class as well.
Thanks to:
Guidecraft Grippies and Tryazon
#tryazon and #grippies