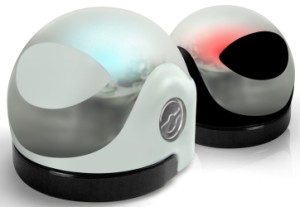 I was awarded an Ozobot – Learning With Robots Party from Tryazon. These Ozobots are so cool!  I have 10 year old and 12 year old boys who love science, math, computers and robots!  There were ecstatic.
We started by reading all the instructions and testing out the Ozobots on the included tracks. Then the boys and I created out own tracks with white paper and magic markers. That was a lot of fun. We used the codes from online to see if we could get the robots to turn a certain way and go slower or faster. We really liked "turbo" speed.
For the party, we laid out the tracks we had made, plus the ones that came with the Ozobot. We let the kids play with those and then most decided to make their own and test those out. They did that for over an hour. Then we brought out the iPad, where we had downloaded both apps, and let the kids test out the robots of the pre-designed tracks as well as create their own.  Overall though, most of the kids liked drawing their own tracks with markers the best.
Everyone loved the robots, even the parents. At least two parents looked up the Ozobots on their smart phones to see where they could buy them. We were surprised that the starter pack, which was basically the giveaway, was worth $50!  The dual pack which we were given to test was $115. This is a great product and a fun toy, but a bit pricey.
We had 8 kids there and all their parents and did a drawing to see who would get the Ozobot starter pack. Six year old Avery won – I think her dad will be the one playing with it the most though!
Thanks to: